BOURBON+ | BAR SCOUT: NOLA SMOKEHOUSE BAR
by Jake Emen, and shared on nolasydney.com with the permission of BOURBON+
Sydney has a hard-earned reputation as one of the world's best and most diverse dining and drinking destinations. That's certainly appreciated by stateside travelers; a trip to Australia would be a helluva long flight to take to end up stuck with mediocre fare during your visit. Luckily for us, our charming personalities aren't the only American export gracing Sydney's shores. No, our greatest export—veritable boatloads of bourbon—is making its way down under, too, and perhaps the best place in town to pull up a barstool is at NOLA Smokehouse and Bar.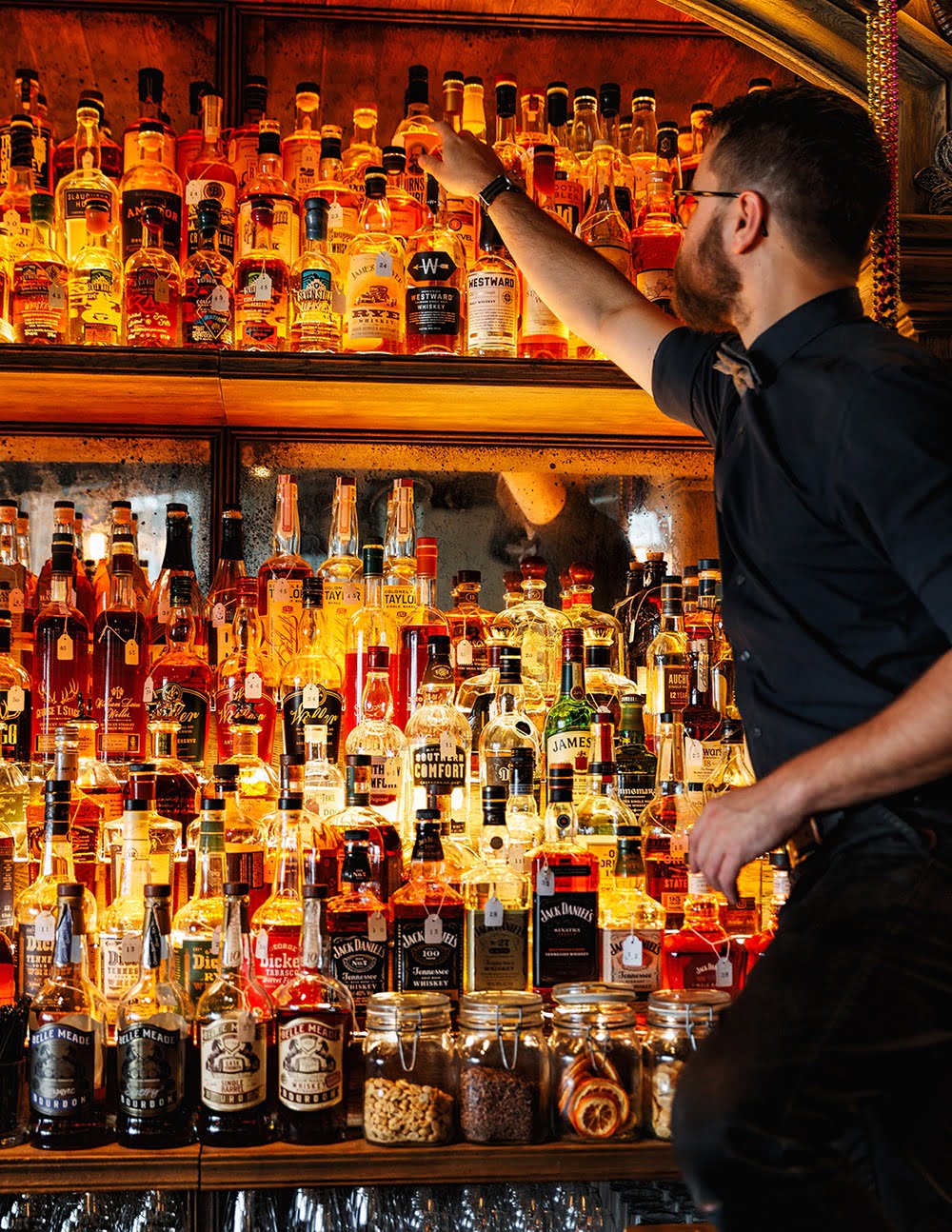 "Sydney has a plethora of bars dedicated to a particular style of whiskey, whether it's Japanese at Tokyo Bird, Irish at The Wild Rover, or Scotch at The Baxter Inn," said Ben Ingall, NOLA's assistant bar manager, as he helped stave off my jet lag with a proper dose of Penicillin, the modern classic cocktail. "Bourbon, and American whiskey as a whole, has always had a cult following in Sydney but had never been championed in the same way, and that's what we strive to do at NOLA."
Since opening in early 2017, NOLA has established itself among the upper echelon of bourbon bars found anywhere outside the United States. That's thanks to an approach that deftly touches upon both quality and quantity. For the latter, there are more than 550 American whiskeys on hand, showcased on a beautifully lit backbar, and as for the former, the barkeep is more than happy to help pry open your purse, whether it's for the full Pappy lineup, Michter's Celebration, or Buffalo Trace O.T.C. 1990. "It's bottle Number 63 of 63, and from all reports from our suppliers it is the only bottle in the Southern Hemisphere," Ingall said of the O.T.C., beaming with pride.
A separate display case holds some of those exceedingly expensive and rare pours, making for an even more compelling sight than the sparkling harborside views of Jones Bay Wharf through the windows. Guests can head to the backroom whiskey lounge, dubbed The French Quarter, for a more intimate setting to sample the premium wares or to work their way through an assortment of whiskey flights.
Just as impressive as those heavy hitters, though, is the supply of craft producers that NOLA has procured. I guffawed with incredulity at the bottles they tracked down, from Belle Meade Bourbon and FEW Spirits to Garrison Brothers and King's County and scores of other upstarts speckled across every corner of the US.
"Just in the two years that I've been at the bar, we've noticed a huge shift in the whiskey that's becoming available to us through Australian importers and suppliers, and even more recently, we're finally getting some decent prices on craft distilleries like Dry Fly, Westward, and Balcones, which tells me that clearly the demand is there," Ingall said.
NOLA's list puts those at many noted whiskey bars in the States to shame, which is a point of pride for the NOLA team. Meanwhile, beyond scouring the States for the best bourbons made by small distillers outside of Kentucky, the team is always on the hunt for the next big catch.
"When it comes to white whales, I know our owner is itching to get his hands on a bottle of the original Booker's Rye release," Ingall said. "We were lucky enough to try one of the first bottles that came to Australia a few years ago, and I think in a small way we both regret 'trying' as much as we did now that it's so hard to get."
Alongside all that whiskey, the New Orleans-themed space serves down-home Southern cuisine and an extensive cocktail lineup. "New Orleans is the birthplace of cocktail culture, so it would be criminal if we didn't have a killer cocktail list as well," Ingall said. You'll find classics and riffs alike, from a trio of different Sazeracs to house creations such as The Mixy, where Dead Rabbit Whiskey stars alongside Lillet Blanc, an Australian Semillon wine, and smoked pineapple oleo-saccharum syrup.
NOLA is conveniently located in Barangaroo, a burgeoning waterfront development in Sydney's bustling Central Business District or "CBD." The area is nestled between busy tourist destinations Circular Quay—home to the splendor of the Sydney Opera House and The Sydney Harbour Bridge—and Darling Harbour. Get the sightseeing out of the way and then stop off at NOLA for a much-needed reprieve, including fried chicken, pulled-pork sliders, or whole slabs of barbecued meats on your plate and bourbon in hand. Who knew you could go to Australia to get a taste of what we do oh-so-well at home? Good on ya, indeed, mate.